Navigating the Art World:
Making Friends with Instagram Again

22nd of January, 2022. Berlin.

Today is a calm day. It's the kind of day where, upon waking up, I feel like the world has gone still... In a soothing way, in a way that makes me feel like I can guiltlessly take a break.

The great thing is, when I'm relaxed, and I don't feel under pressure I feel like writing. And so today I write. ☺︎

I write about my on-going journey of establishing myself as an artist, more precisely as an art photographer. I shall call this journey"Navigating the Art World", inspired by the little book I am currentlyreading: Navigating the Art World. Professional Practice for the Early Career Artist, by Delphian Gallery.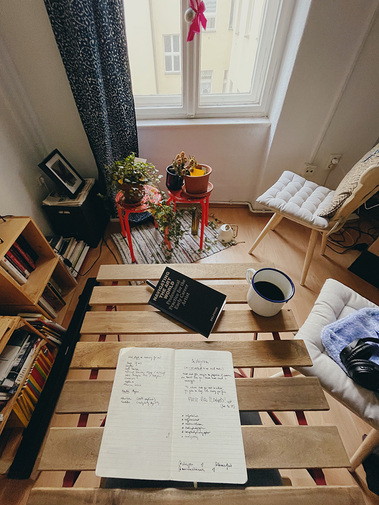 I received this little book as a gift a few months ago.
Since then, it's been my companion on and off, and now
I've decided to give it another proper visit, and to really
write down tips and lessons that I deem useful at this
point of time.

It suits the current state I am in, or rather: the current
state I am trying to navigate through.
After finishing my studies a couple of months back,
the time has come to finally aim higher and establish
myself as an art photographer.

One Step Ahead: I'm Back on Instagram

My little book tells me that there's basically
no way around using social media as a way
to promote your work nowadays.

Reading that scares me a bit, but it also feels
like a relief. It's a relief, because I am not very
good (yet!) when it comes to networking
and getting myself "out there".

It is still a skill I have to enhance, but for now it feels really helpful to have Instagram as an available tool to help me out with that.
What makes using Instagram difficult for me is having basically been offline for almost two years on my most important social media channels: Instagram, Flickr and Twitter. This makes it really hard to get back on it.

However, two days ago, I finally, finally created a new Instagram account! @mariamxsoliman is the username I chose for now.

For most people this is something that is probably not worth contributing a whole blog post to, but to me, it is a meaningful step in (re-)establishing myself in the art world. Being gone for twoyears made it harder than ever to come back, but I have thought it over so much, and I feel confident about it now.

What was the problem to begin with?

In the beginning of 2019, I felt so overwhelmed by my social media existence, especially Instagram, that I just stopped posting anything. I didn't make it a public decision or anything, I just felt incapable of posting, and what I thought would be a month or two of abstinence turned into three years.

Looking back I realized that I got overwhelmed, because I felt like I couldn't establish any boundaries between what I deem personal and what I deem professional anymore.
I also felt like the way I used to share my professional work was not respecting the work itself. I stopped liking the format, and I didn't like the realization that people would just scroll through my photos and consume them within a second or two.

Looking at it from today's perspective, people's scrolling behavior most certainly did not change, and I think most people will still consume my photos within 1-2 seconds... but what makes me feel better about using Instagram now is the idea that I redefined and rethought the foundation of why I want to use it. And that makes using it feel better than it ever did!

So now, 5 posts and 15 followers later, I'm still feeling very happy about having done this. I realized: Really deciding to treat my account as a business tool, without feeling upset about it, and to use it strategically (while absolutely still remembering to have fun!) is entirely different than having a personal account.

Now I have a photographer's account, and I made the decision to only keep it at that. It's a liberating feeling to define what this account is for: sharing my best work and coming in contact with other photographers/publishers/magazines/galleries, etc.
It is also meant to be a sort of visual research method, a way for me to get constant inspiration. This way I get to develop my own style and to really grow in it.

I also realized now that I really missed the feeling of direct admiration, when people like or comment on my photos and follow me. I realized that I cannot function as an artist without a direct feedback from people who see my art.
Isn't that a fundamental purpose of making art? To share it?